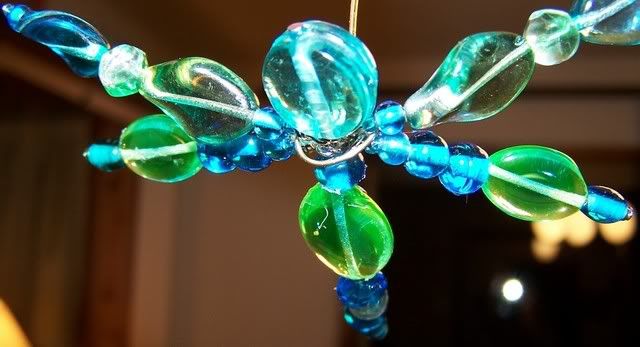 The day presented itself with plenty of sunshine and warm air which was truly wonderful considering our weather has been a little on the cold side. It was nice to just sit in the sun for a while and watch the dogs sun themselves in the grass. Well, warmth breeds creativity so I came in the house thinking about spring and the Pay it Forward Winners...
what could I offer as my little gift and in turn would let them each know how wonderful the day was here in the Pacific Northwest
. Dragonflies came to mind and having recently seen a segment on the DIY Network's Jewelry Making (episode DJKM-611), with guest Vicky Star, I decided that I would give it try and see if I could create some of my own. When my son-in-law saw my little creations he asked if I'd make another one for him to give to his sister who collects dragonflies. So after creating the others, I made the Heart Dragonfly thinking he might like to give it to her for Valentine's Day.
Ladybug,
Rowan Willow and
Sabii Wabii.
I'll be sending out a dragonfly to each of you later this week. Thank you for visiting my blog and commenting on the Pay it Forward.
Wishing you a creative day,
Angelina